VisionGauge® Digital Optical Comparators / Profile Projectors (also known as Shadowgraphs or Video Comparators)
VisionGauge® Digital Optical Comparators / Profile Projectors are the fastest, easiest, most accurate way to compare a part to a CAD file.
Optical inspection sets the standard for part verification in major manufacturing industries in today's high-tech world. We assist leaders in all types of businesses by offering custom automated optical comparators. With increased speed, agility and reliability, our systems allow you to compare parts directly to their CAD data while accurately and efficiently completing inspections and digital optical measurements.
Improving Your Operation's Production and Efficiency With Digital Optical Comparators
Our VisionGauge® Digital Optical Comparators streamline your manufacturing process by capturing images of manufactured parts and automatically comparing them to their CAD drawings. This ability means you can reliably confirm whether a component is within spec or catch production flaws before they go out the door. These systems provide stunning accuracy, a necessary element in high-demand industries like medical manufacturing, aviation, aerospace, electronics and pharmaceuticals.
View our applications page to learn about the various applications of our digital profile projectors.
How VisionGauge® Digital Optical Comparators Work
VisionGauge® Digital Optical Comparators measure product consistency by comparing parts directly to their CAD file. This process is a quick, highly-accurate way to check for defects and verify all components conform to quality standards.
Digital profile projectors are precise and intuitive, delivering high-quality results in less time than traditional optical comparators. These machines are easy to use and because they can be fully automated, they operate swiftly and reliably. They also offer a convenient way to streamline inspections, enabling you to speed up operations, increase throughput, and eliminate operator error.
For more information about how digital optical comparators work and how they improve upon traditional optical comparators, please see our "What is an Optical Comparator" blog post or view our VisionGauge® Digital Optical Comparator video library.
How a Digital Optical Comparator Can Benefit Your Business
VISIONx's digital profile projectors offer reports, charts, statistics and more. In addition to being fully digital, our inspection systems glean data straight from CAD drawings, saving time by making inspections simpler and easier to run. VISIONx's update to traditional optical comparator machines will capture, qualify and report comparison data at the click of a button. Additional benefits of our systems include:
Finding the Right System for Your Unique Application
We have multiple digital profile projectors for sale. Our VisionGauge® Digital Optical Comparators use the latest technology and measuring tools to deliver high-quality images, capture reliable data and help you maintain quality control policies. We offer digital comparators in horizontal and vertical configurations to optimize your measuring processes:
Vertical digital optical comparators: Vertical models contain a glass insert on the stage for parts placement. Ultra-bright lighting illuminates the part from beneath the glass, displaying the profile for inspection. These designs are ideal for applications involving objects that sit flat on the glass, like plates or other flat-shaped components.
Horizontal digital optical comparators: Horizontal optical comparator machines contain an X-axis stage with premium steel, chrome plating and highly durable dovetail mounting grooves for quick and repeatable part placement. The component sits on the stage, perpendicular to the lens and Z-axis. While vertical comparators are ideal for flat parts, horizontal models work well for most other geometries.
If you upgrade an existing optical comparator to a VisionGauge® design, the component's presentation to the camera will remain the same, meaning replacement is easy in the same horizontal or vertical configuration.
View Our Digital Optical Comparator Models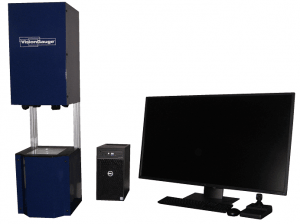 Our 300 Series Field-of-View Systems can help you increase productivity if you manufacture smaller parts for electronics, medical, or similar products. The design boasts an extended depth for objects as high as 4 inches and an extended working area, providing plenty of clearance between the lens and the part.
Several features include:
Small desktop system
Easy to learn and operate
CAD Auto-Align™
CAD Auto Pass/Fail™
Quality image analysis
High-accuracy measurements
The 400 Series Desktop Inspection and Measurement System is a compact digital optical comparator machine with incredible accuracy and reliable digital optical measurements. With manual movement across three axes, the 400 Series is ideal for lower-volume applications that require precision measurements.
Features of the 400 Series include:
Compact digital optical comparator machine
CAD Auto-Align™
CAD Auto Pass/Fail™
Tooth Checker™ tools
3-axis manual stage motion
Multiple configuration options
Speeds up the review of small parts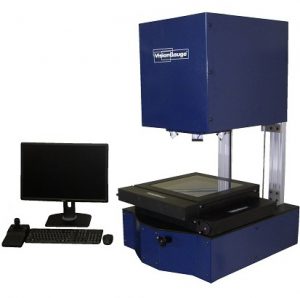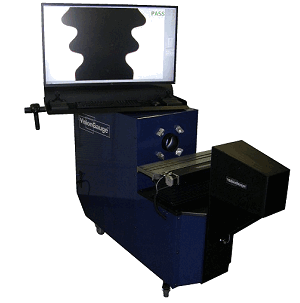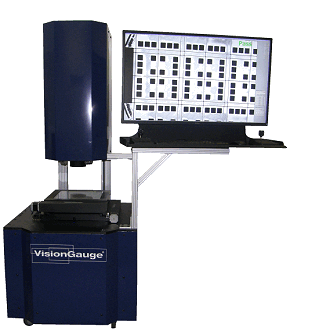 The 500 Series Digital Optical Comparator earns its name by setting the standard for optical quality control equipment everywhere. This machine can handle almost any demand thanks to its high efficiency, user-friendly design and precision optics.
Features include:
Most powerful digital optical comparator on the market
High product volumes
Great for small and large parts
Automated measurements and CAD comparisons
Versatile reporting options
CAD Auto-Pass/Fail™
500 Series Super-Extended-Travel Configuration
The Super-Extended-Travel configuration of the 500 Series VisionGauge® Digital Optical Comparator delivers reliable, high-accuracy performance for measuring large and heavy parts. The innovative design provides optimal rigidity and minimizes mechanical deflection for various components, including parts in the power generation and gas turbine industries.
Examples of the primary features include:
Ideal for large and heavy parts
60 inches of travel
Supports loads of up to 300 lbs
Compare components beyond the optical field-of-view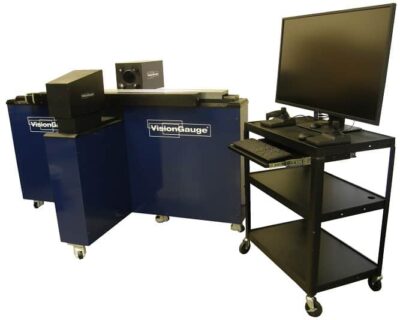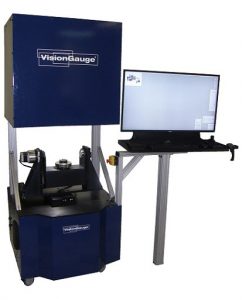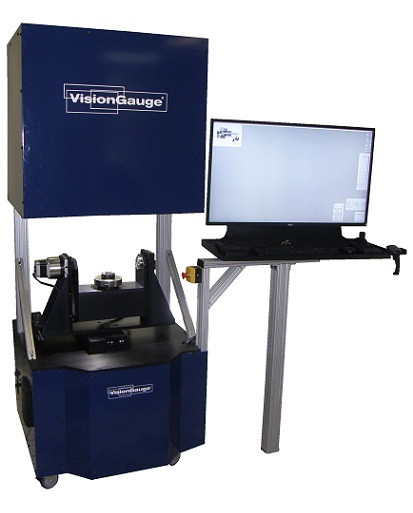 Our 700 Series 5-Axis Inspection and Measurement System offers the ultimate solution for work with more intricate electronic or mechanical parts. The system is optimal for complex aviation, aerospace, and power applications.
Features of the 700 Series comparator include:
Captures images on five axes, including X, Y, Z, rotary and tilt
Crystal clear resolution
View reports based on CAD/DXF file comparisons, part feature locations and measurements
Fully Automated
Optimal for complex applications
If you are looking for an inspection system ready to integrate into your existing process that can take on your most complicated automation applications, you may benefit from the VisionGauge® Standalone Inspection & Measurement System. The Standalone's design leverages precision optics and advanced software to provide greater efficiency, accuracy, and speed compared to older models.
Product features include:
Ready to integrate into your existing process
Flexibility to configure in a variety of orientations
Features its own control cabinet
User-friendly interface
Fits into any existing automated cell
A versatile all-purpose option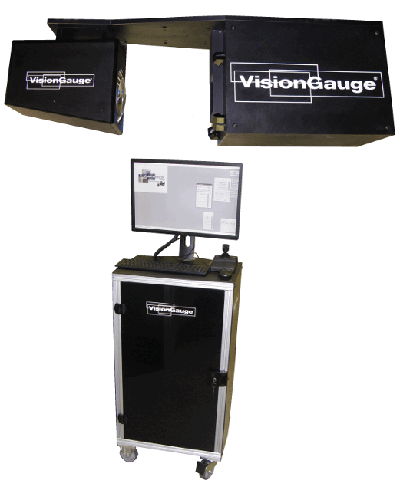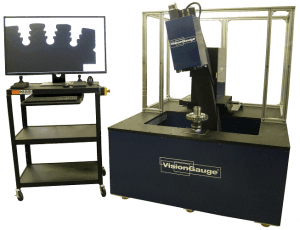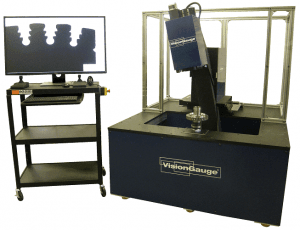 The VisionGauge® Disk Inspection and Measurement System is the ideal solution for companies that manufacture and inspect turbine disks. Our resources will allow you to detect flaws and confidently turn out higher-quality turbine disks.
Examples of features include:
Inspect large or small disks
Fully automated
Measure and verify faster
Five axes of motion
View disk slots from all angles
Equipped with our software
LED computer-controlled illumination
Advanced measuring tools
Contact Us For More Information
Our VisionGauge® Digital Optical Comparators allow you to speed up your measurement and verification operations, helping you establish a more effective, accurate inspection process for your business. If you're looking for a system that meets specific job requirements, we also have the inspection technology to offer customized solutions and multiple configuration options.
Please browse our comprehensive list of products to find the perfect solution for your unique application. If you want to learn more about how partnering with the industry's leading digital optical comparator manufacturer can benefit your business, our experts can guide you. Contact us online today for additional information or to find a purchasing location near you.
You can also check out our frequently asked questions page for more information.
VisionGauge® Digital Optical Comparator / Profile Projector Options:
Machine Vision Products Application Bulletins: