Our core technical competencies are primarily in software development, systems integration and our extensive machine vision experience and know-how.
Along with this, we also have comprehensive in-house design & fabrication capabilities. We employ state-of-the-art 3D design & modelling CAD and CAM software and we have 3- and 4-axis CNC machining and turning facilities.
Our in-house capabilities also include optics, electro-mechanical design & assembly, sheet metal fabrication, multi-Axis motion control, electronics & systems programming as well as controls engineering & integration.
We can carry out high-accuracy, NIST- & ISO-traceable calibration (in 1D, 2D and 3D, over long distances, and down to micron-level accuracies).
We are also fully equipped to carry out custom fabrication and system customizing.
The only processes we currently outsource are plating (e.g. anodizing, hard chrome & nickel plating, etc.) and painting.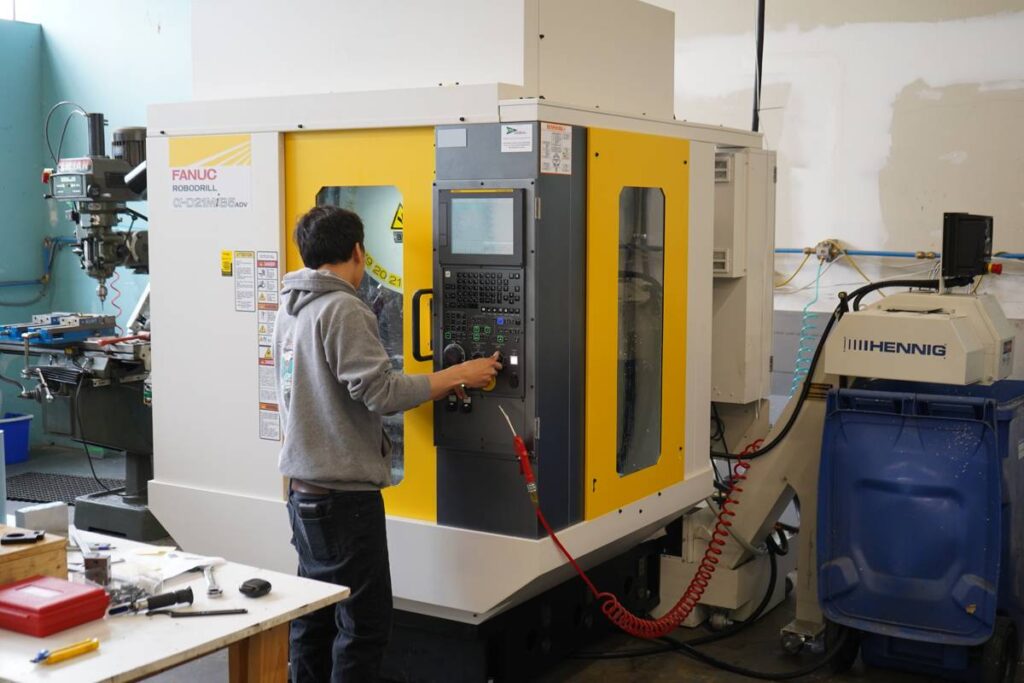 The latest addition to our shop: a Fanuc RoboDrill α-D21MiB5ADV, 10,000 RPM, CNC Vertical Machining Center with a Fanuc 31i-B5 CNC Control and a 4th axis Fanuc DDRT-500 Direct Drive Linear Rotary Table.
This machine also has a bunch of automation-ready options (e.g. Hennig Hinge Belt Conveyor, Auto Door, Tool Probe, Bed Flush, Fixture Flush, Spindle Air Blow, etc.). This will allow us to add a robot to this machining cell, for automatic loading & unloading.
We're excited about all of the extra capabilities that this new machine gives us. It will produce parts that go into our VisionGauge® inspection and measurement systems, to help support the increasing popularity of VisionGauge® systems.
Our new 4 axis RoboDrill & collaborative robot are working well to help us increase the production of parts for our high-accuracy & easy-to-use VisionGauge® inspection & measurement systems.