VisionGauge® Machine Vision Systems for Automotive Component Verification Applications
The industry of automotive components manufacturing requires high precision component verification in order to meet strict quality standards. Our VisionGauge® machine vision software solutions can perform automotive component verification with our standard visual measurement toolset, but they also can utilize our advanced inspection techniques and technologies, including hardness testing and live image overlay comparison.
Hardness Testing
VisionGauge® automatically determines the hardness of materials by measuring characteristic dimensions on indentations made by standard hardness testing machines. VisionGauge® supports Brinell, Knoop, Rockwell, and Vickers tests. VisionGauge® carries out all hardness measurements in accordance with the latest revision of the relevant ASTM Standards. Find out more about our hardness testing tool.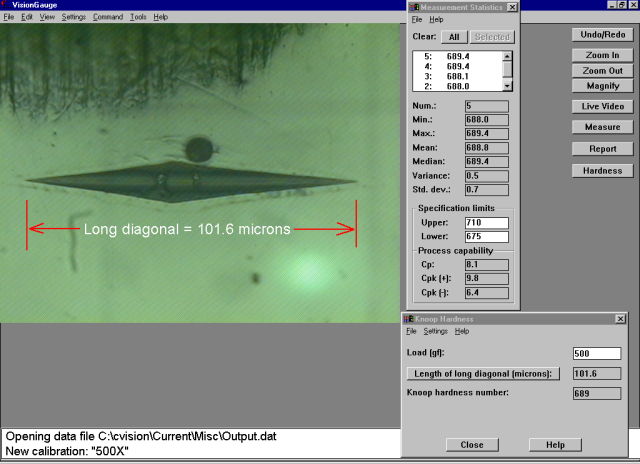 Live Image Overlay Comparison
Our VisionGauge® Digital Optical Comparators systems let you display a CAD file on top of the actual video feed. The software will automatically size and compare the image with the overlay. Our digital optical comparators can be integrated into systems with a wide field of view, low distortion lens, computer controlled illumination and a high resolution digital camera; all this powered by our easy to use VisionGauge® Online software. View more information on our digital optical comparator systems.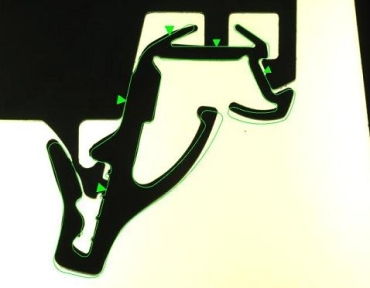 Windshield Urethane Bead Measurement with Laser Triangulation Systems
The common way that windshields are bonded to a vehicle is through a urethane bead based adhesive. Given that there are many laws regarding the minimal holding strength the sealant must have, accurate measurement of the amount used is paramount. Our VisionGauge® OnLine software is capable of measuring the width & height of the sealant bead used in the automotive industry.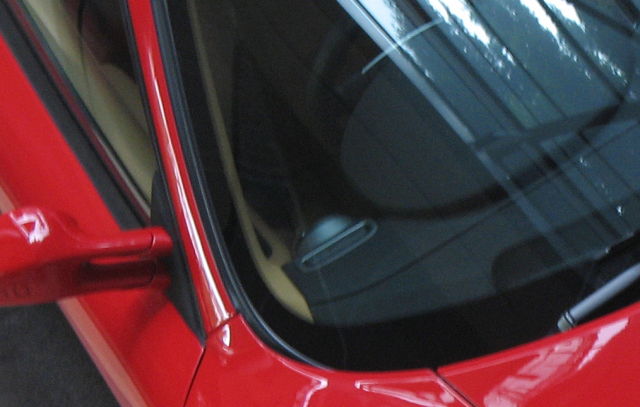 This is possible thanks to our Laser triangulation systems:
LASER Profiling Systems for Fast and Accurate Thickness Measurements
VisionGauge® OnLine LASER profiling systems are a complete hardware and software solution for fast, easy, and accurate 3D measurements. Theses systems use fully-automated LASER profiling to carry out thickness measurements. With VisionGauge® OnLine LASER profiling measurement tools, Z-axis measurements can typically be carried out as quickly as regular (X,Y) measurements.
VisionGauge® OnLine LASER profiling systems have no a priori restrictions regarding the part geometry and they can deal with a wide range of 3D geometries.
These systems include a high-resolution camera as well as a LASER oriented at 45 degrees relative to the camera's optical centerline. The LASER projects a very thin and straight line at the point of measurement. By measuring the LASER line's offset across the camera's field-of-view, the system can automatically measure, very accurately, the height of the sealant. In the case of the windshield urethane bead application, these laser measurements are carried out when the sealant bead is still un-cured, and thus "gelatinous".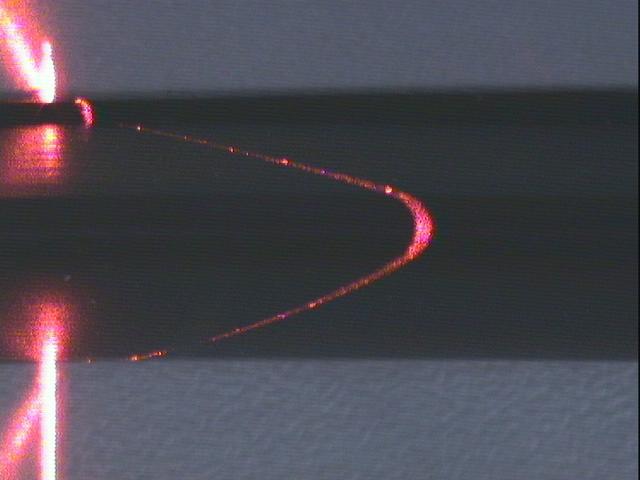 Above you can see a sample image of our Laser triangulation system working on a urethane bead. Our systems have proven accuracy when measuring urethane beads. Furthermore, the systems are fully customizable to better fit your application - with several options for mounting, illumination, magnification, and much more.
As is the case with the entire VisionGauge™ family of products, the LASER Profiling Edition of VisionGauge™ is very powerful but remains extremely easy to use. It is perfectly suited for use on the shop floor and in the quality control and production lab.
Download a pdf with information on our Laser Profiling Systems
Some of VisionGauge® Online's other tools for similar industry inspections include automated measurement, defect detection, presence / absence detection, color verification, 3D laser profiling, optical character recognition/verification and assembly verification. For information on our VisionGauge® specifications to help you achieve the best results on your automotive component verification, please contact us.
Machine Vision Products Application Bulletins: