VisionGauge® Video Sequence Capture, Live Image Overlays, & Additional Features
VisionGauge® Support for DXF Format CAD Files With "Part Tracking"
Powerful & easy to use:
VisionGauge®'s Live Image Overlay Builder supports DXF-format CAD files. When you read a DXF file into the Live Image Overlay Builder, VisionGauge® can automatically scale the drawing to match up with the system calibration. This means that if the item measures one inch in the CAD drawing, it will appear on the screen as a one-inch object under the camera.
This is the perfect tool to use when comparing a part against its CAD drawing; VisionGauge® scales the CAD drawing appropriately and draws it "on top" of the part! VisionGauge®'s Live Image Overlay software tool with DXF-format CAD file support allows you to quickly determine how well a part matches up with its CAD file definition.
And when you use this tool with a stage (either manual or motorized), the overlay can move with the part. By having the overlay "track the part" in this way, you can carry out inspections and compare the part with the CAD overlay drawing at higher magnifications, outside of the field of view.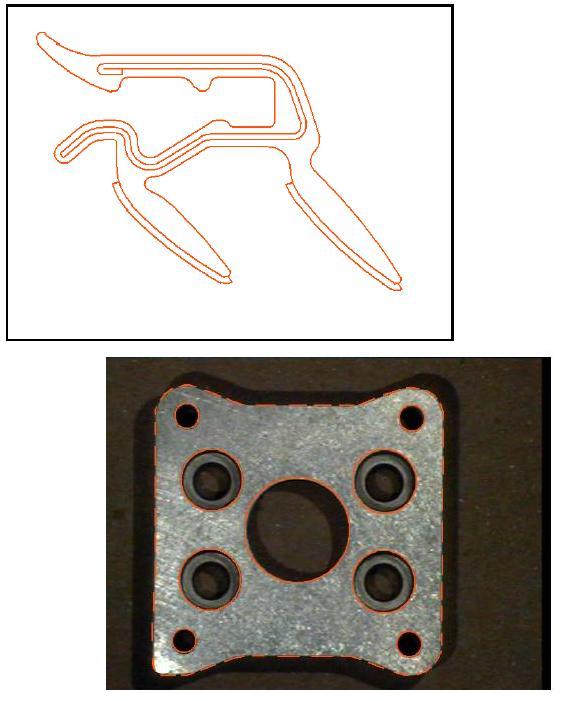 Other display options are also available: for example, you can scale the CAD drawing to fit inside the image or you can specify your own scaling coefficient.
For more advanced CAD overlay handling and part comparison, including our patented CAD Auto-Pass/Fail™ and CAD Auto-Align™ features, learn about our ground-breaking VisionGauge® Digital Optical Comparator systems.
Full Frame-Rate Video Sequence Capture Tool
VisionGauge®'s powerful Video Sequence Capture tool allows full frame-rate video capture (or slower, if specified by the user) to system memory. Once captured to memory, the video can be played back, modified, saved to disk, and retrieved later on, etc... The amount of video that can be captured (i.e. duration) is only limited by system memory.
VisionGauge® can save the video to disk as a sequence of individual bitmap images or as an "*.avi" movie file that can be played by other media applications. This tool is especially useful for time-dependent processes, motion tracking, etc...
In all cases, the video is captured and saved at full resolution and without compression, in full color and at full video frame-rate.
VisionGauge®'s Video Sequence Capture tool supports both analog and digital cameras.
Programmable Computer-Controlled Illumination
VisionGauge®'s programmable computer-controlled illumination option:
Is extremely easy to setup and configure
Is easy-to-use and has a very simple and intuitive interface
Allows you to control up to 4 individual light sources
Is fully programmable (i.e. allows you to program different repeatable light configurations & intensities at different measurement points)
Proven to increase measurement repeatability in machine vision inspection
Is perfectly integrated with all of VisionGauge®'s other tools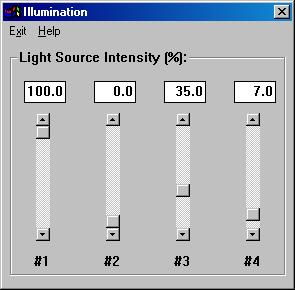 Motorized Zoom and Focus Optical Systems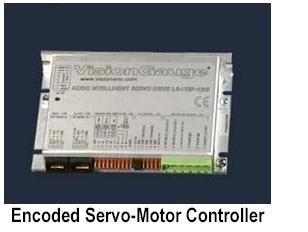 VisionGauge® includes built-in support for motorized optical systems. With VisionGauge®, you can motorize both the zoom and focus axes, using either stepper motors or encoded servo-motors. VisionGauge® has a simple and intuitive interface that gives you full control over your motorized optical system.  Motorized optics are available in both operator-driven and fully-automated systems.
Measure at ANY zoom position over the full zoom range:
With encoded motorized zoom optics, VisionGauge® is continuously aware of the system's optical magnification as you zoom in and out. This means that VisionGauge® is able to:
Carry out high-accuracy measurements at any time over the full zoom range of the optics
Go to programmable and repeatable zoom positions
VisionGauge®'s calibration procedure for encoded motorized zoom optics is very straightforward. The user begins by indicating the number of calibration points that he wants to enter and VisionGauge® distributes these points uniformly over the full zoom range of the optics. For each calibration point, VisionGauge® then brings the optics to the appropriate zoom position and prompts the user to carry out a simple field-of-view calibration. Once all of the points have been entered, VisionGauge® saves the calibration data to disk. This calibration data can be password-protected. VisionGauge® will then automatically read-in the calibration data on startup. And even though you only need to calibrate VisionGauge® at a limited number of zoom positions, VisionGauge® is able to carry out high-accuracy measurements at any position over the full zoom range of the optics by interpolating very accurately between the calibration points.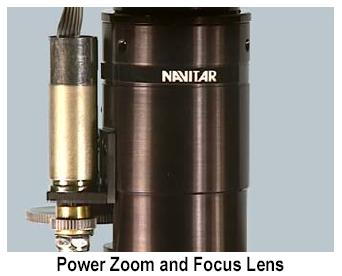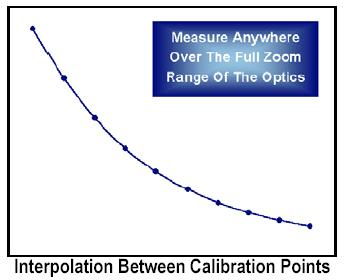 Motorized optics are another powerful tool that VisionGauge® puts at your disposal to easily and effectively solve difficult inspection and measurement applications.
Machine Vision Products Application Bulletins: