VisionGauge® OnLine version 15.00, dated October 14th, 2021, is available for download.
New features and enhancements have been added over the past few versions:
---
This update moves "Auto-Align" settings previously found in the "CAD Auto Pass/Fail Settings" into a new "CAD Auto-Align Settings" window, accessible from the Overlay Toolbox alongside the "Auto Pass/Fail Settings".
The CAD Auto-Align Settings include a new parameter to save a default Auto-Align Mode (e.g. X-only, Y-only, XY + Rotation, etc.) when Live Video is activated. XY + Rotation alignment is set by default. The option is saved with each CAD file's .apf file when configured. This allows users to load different CAD files, each with its own default Auto-Align Mode pre-selected.
The CAD Auto-Pass/Fail Settings also include a new set of default values when setting up Control Sections. These default values are applied when a new control section is added, which can make short work of setting up multiple control sections with the same tolerances, display deviations, and more. You can also use the "Apply to All" button to change the settings for all currently configured control sections.
---
We have also greatly improved the motion convergence time when running programs VisionGauge® OnLine's Program Toolbox when the Watchdog option enabled and an E-Stop is connected to the motor drives. This ultimately contributes to motion programs running even faster without sacrificing positioning accuracy. In some of our test cases, we experienced programs with many Motion Control steps running up to 40% faster!
---
VisionGauge® OnLine's live overlay image refresh rate has been improved when displaying complex DXF file with a large number of entities. These improvements are particularly noticeable when viewing a relatively small field-of-view compared to the full scope of the overlay being drawn, e.g at high magnifications or very large overlays.
---
VisionGauge® OnLine now includes a new "Operator Mode" feature. Operator Mode is designed to let Administrators setup a repeatable environment for their operators that limits the operator control over 1) moving windows and/or 2) opening and closing windows when this mode is enabled. Administrators can customize control by choosing to Allow or Deny these Move and Open/Close window operations for individual tools in the Security menu: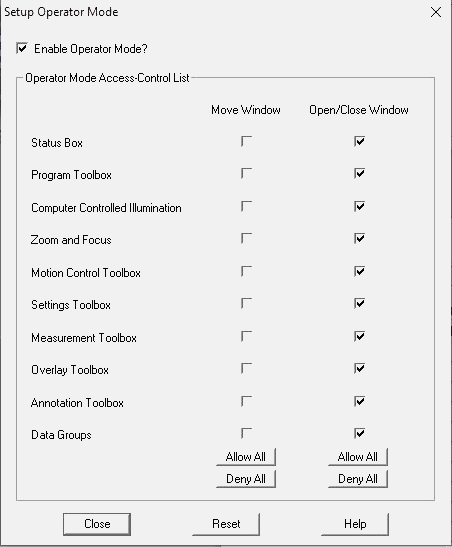 Operator Mode is disabled by default so this update will not make user interface changes until Operator Mode is explicitly enabled. After Operator Mode has been enabled, control is automatically restricted based on the Administrator's configurations when VisionGauge® OnLine starts up. Control over setting up Operator Mode is password protected and factory locked-out. A new option has been added to the Single-Session Factory Lock-Out procedure to permit modifying Operator Mode during a single session of VisionGauge® OnLine.
Additional feature and menu restrictions may be added with future updates of the software.
---
We have also added new 'Cancel All' buttons to the Program Toolbox's Setup windows. This button is useful for quickly cancelling out of all changes to a program step and returning control directly to the Program Toolbox itself, instead of the Program Toolbox settings setup window.
---
We've enhanced support for certain DirectX/DirectShow compliant cameras that do not list their full resolution compatibilities. This update applies to both VisionGauge® and VisionGauge® OnLine. Previously when using these devices, when users tried to save a certain resolution as default, the maximum resolution would be displayed instead. Now these resolutions are all able to be properly saved and restored, as well as the camera framerate and bitdepth.