Weld Inspection and Measurement / Tool Wear Measurement Applications
Software and Systems for Weld Inspection and Measurement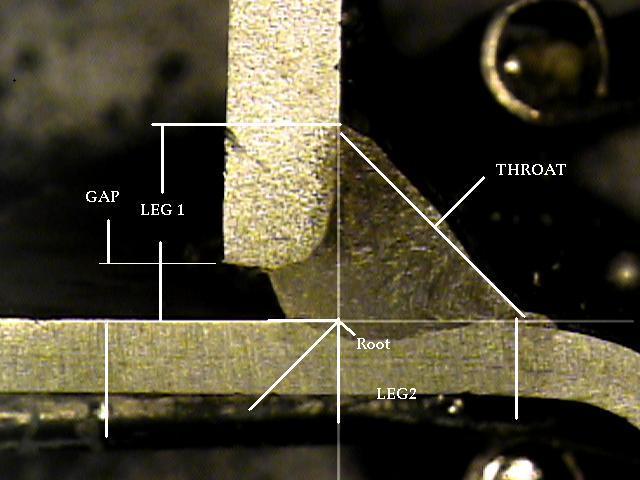 Welding is a fabrication process used across many manufacturing industries to fuse materials. Some industries have rigid requirements and standards for a part to pass inspection following a welding process. VisionGauge® software includes native inspection tools specific to weld measurement that will make the quality control and inspection of welding a much easier process.
VisionGauge®'s weld inspection and measurement tool can be used to carry out the following measurements:
Generic welds (i.e. Leg, Throat and Root measurements)
Concave isosceles 45 welds
Convex toe - toe welds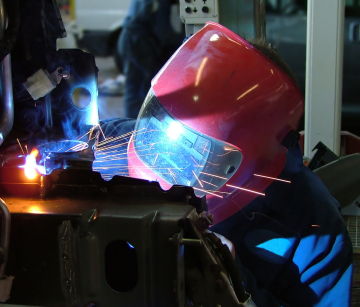 As is the case with all of VisionGauge®'s measurement tools, weld measurements can be saved to disk, sent directly to another application, included in a report, etc. VisionGauge® is also able to compute measurement statistics and create clear and effective graphs and reports with relevant weld measurement data. You can also annotate your images with text and objects to show exactly what measurements were taken.
With every license of VisionGauge® our image processing and analysis tools are available to automatically process the image before carrying out the weld inspection. This can dramatically increase the quality of your results.
In a specialized example of our software being used, VisionGauge® OnLine is being used for in-process automatic measurements of bellows as they are being LASER welded. VisionGauge® OnLine measures the position of the seams as the bellows rotate and transmits these measurements to the bellows welding machine via a standard RS-232 COM port. This way, the welding head on the machine can track the seam accurately and ensure a high quality finished product.
Our systems and software can be fully customized to your welding inspection and measurement application requirements. Download a pdf with general information about our weld measurement tools for your application.
Tool Wear Measurements / Automatic Flaw Detection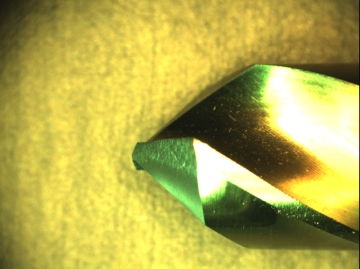 Tool wear is a gradual failure that cutting tools experience as a result of regular operation. Replacing tools that have significant wear timely is a necessary task to maintain manufacturing standards and keep up efficiency. With VisionGauge® OnLine machine vision and visual inspection systems, you can perform tool wear measurements and automatic flaw detection. Our systems produce excellent results in high magnification conditions, can be fully automated, and have a resolution of 0.1 microns.
All versions of VisionGauge® OnLine come with our advanced live image overlay capabilities. This tool will allow you to place a DXF-format CAD file on top of the tool being analyzed. The CAD file will be automatically resized to match the tool's size, and then the difference between the two is examined. In addition, all of VisionGauge® OnLine's automatic flaw detection tools are included in our machine vision and inspection systems.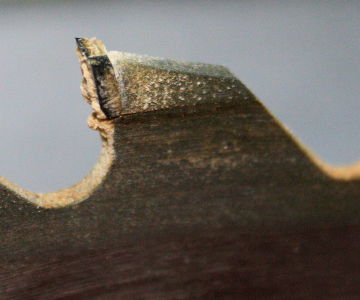 Our visual inspection systems can be customized to your needs with some of the following features:
High-precision crossed-roller movement with 0.1-micron encoder feedback
Interchangeable levels of magnification
Computer controlled illumination, direct or reflected
Computer controlled movement in 3-D
Computer controlled motorized zoom and focus
Vibration isolation
and many others...
In addition, VisionGauge® OnLine machine vision software can be easily programmed to automatically perform tool wear measurement and inspection for you. You can even save different types of programs to measure different tools.
Please contact us to know how our systems can be fully customized to meet your specific needs.
Machine Vision Products Application Bulletins: