The VisionGauge® Standalone Inspection & Measurement System is a high-accuracy measurement system designed specifically for automation applications. The system is widely-applicable and extremely general purpose, and it can be easily dropped into an existing automated cell.
Our VisionGauge® OnLine software includes Remote Program Communication, an extensive set of communication protocols over a variety of interfaces (via TCP/IP over ethernet, digital I/O's, COM port, etc.) for full 2-way handshaking (with a robot or cell controller, for example), error/result reporting, and remote control over automated program operations.
The VisionGauge® Standalone Inspection & Measurement System includes all of VisionGauge®'s advanced inspection and measurement tools, including our patented CAD Auto-Align, CAD Auto Pass/Fail, and the patent-pending Tooth Checker tool, making it perfect for automatically carrying out very high-accuracy inspections and measurements.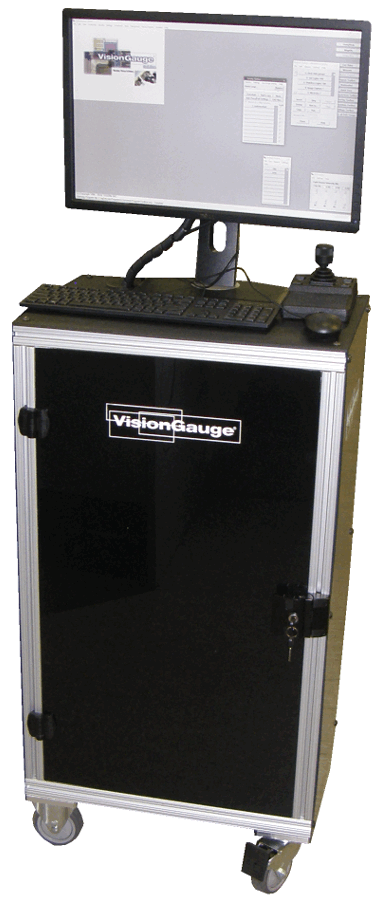 Contact Us for More Information
Video measuring system costs depend on your supplier and the customizations required to solve your application, such as the size, magnification, and type of illumination. Choose a video measuring system supplier who understands your business's needs and offers quality control solutions to properly solve your application. VISIONx, Inc. strives to provide our customers with cost-effective inspection equipment with the best technology available. We'll work with you to choose equipment, customize it to match industry-specific requirements, and provide maintenance and support to ensure your video measuring system continues to function as expected. Our Application Support is able to assist with recommendations for improvement, future reconfigurations, and solving new applications with the same system.
Contact us with your application details to learn more about the VisionGauge® Standalone Inspection and Measurement System.