The VisionGauge® Standalone Inspection & Measurement System is a high-accuracy measurement system designed specifically for automation applications. The system is widely-applicable and extremely general purpose, and it can be easily dropped into an existing automated cell.
Our VisionGauge® OnLine software includes Remote Program Communication, an extensive set of communication protocols over a variety of interfaces (via TCP/IP over ethernet, digital I/O's, COM port, etc.) for full 2-way handshaking (with a robot or cell controller, for example), error/result reporting, and remote control over automated program operations.
The VisionGauge® Standalone Inspection & Measurement System includes all of VisionGauge®'s advanced inspection and measurement tools, including our patented CAD Auto-Align, CAD Auto Pass/Fail, and the patent-pending Tooth Checker tool, making it perfect for automatically carrying out very high-accuracy inspections and measurements.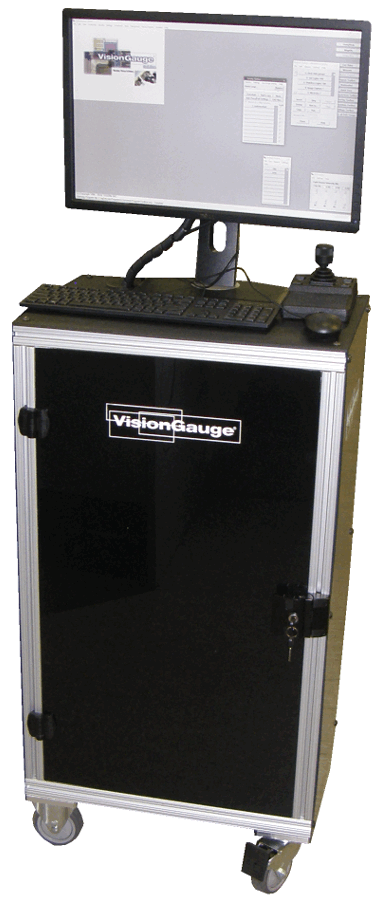 Advantages of VisionGauge® Standalone Inspection & Measurement Systems
In addition to its versatility, the VisionGauge® Standalone Inspection and Measurement System has many benefits compared to existing technology. Our adaptable software intelligence in automation means there is less reliance on operators and more focus on software and tools. This model combines advanced software and precision optics to offer greater speed, accuracy, and efficiency compared to older measurement devices.
Additional advantages of using our video inspection measurement systems and equipment include:
Access to VisionGauge®'s full imaging, inspection, and measurement toolset
Ready to integrate into any existing process
Fully-automated programs with multiple options for error/result/status reporting (Digital I/O signals, TCP/IP commands, etc.)
Eliminates variations between operators
Automatic electronic documentation of all inspection results
Save floor space
Compatible with existing part-positioning equipment, robotic components, and automated cells over a variety of interfaces
Intuitive, user-friendly interface
Exclusive, proprietary software and tools and world-class Application and Technical Support
The benefits of using a VisionGauge® system are evident in its state-of-the-art inspection and measurement features – particularly its intuitive image analysis technology and sub-pixel accuracy. Our video measuring equipment has features that make it one of the best quality control solutions for a wide variety of industries. Medical device manufacturing, military & defense, aerospace, automobile manufacturers, and many more can use this system to improve daily operations.
The VisionGauge® Standalone Inspection and Measurement System's features include:
High-resolution optics and imaging
Configurable in any orientation for easy integration
3 different types of LED illumination

Transmitted back illumination
Reflected off-axis illumination
Reflected coaxial illumination

Exclusive patented VisionGauge® software and tools like CAD Auto-Align™ and CAD AutoPass/Fail™
Greater depth of field for better focus
Long working distance
10x or 20x magnification
High-contrast, high-quality images
Easy communication with automated cells with full two-way handshaking over a variety of interfaces
Data collection and exchange capabilities including Pass/Fail, data manipulation, charting, and statistics
and much more…
Technical Specifications may be found in the downloadable data sheet.
What Is a Video Inspection Measurement System?
A computerized video measuring system inspects live images of manufactured parts, often using a computer-aided design (CAD) file as a reference. Older systems may have required extra physical components like templates and overlays. Using digitized CAD data directly eliminates the need for those resources. When comparing a part to its design specifications, performing measurements, performing defect detection, etc., the system collects data and may generate a Pass/Fail result. Manufacturers use that information to conduct quality control processes.
Controlling the quality of the parts you produce is crucial. Modern measurement devices are faster, more powerful, and more accurate than traditional models. The efficiency and reduction of operator errors associated with using modern video inspection equipment outweigh the cost of a video measuring system.
The VisionGauge® Standalone Inspection and Measurement System is a versatile solution for your automation and inspection needs. Precise and convenient, the standalone model serves as a drop-in device for robot-controlled, automated cells. Combined with ease of installation, this system can solve a vast array of of applications and works well for general purpose inspections.
Contact Us for More Information
Video measuring system costs depend on your supplier and the customizations required to solve your application, such as the size, magnification, and type of illumination. Choose a video measuring system supplier who understands your business's needs and offers quality control solutions to properly solve your application. VISIONx, Inc. strives to provide our customers with cost-effective inspection equipment with the best technology available. We'll work with you to choose equipment, customize it to match industry-specific requirements, and check in with you to make sure your video measuring system continues to function as expected. Our Application Support is able to assist with recommendations for improvement, future reconfigurations, and solving new applications with the same system.
Contact us with your application details to learn more about the VisionGauge® Standalone Inspection and Measurement System.
VisionGauge® Standalone Inspection and Measurement Systems