VisionGauge® OnLine version 13.26, dated February 23rd, 2019, is available for download.
The following enhancements have been made over the last few update versions:
---
We've included support to define many manual measurements using datums. This means the results of other manual measurements or specifically saved datums can be used during definition of other manual measurements.
Measurements in the General tab that support being defined by datums are:
Point-to-Point Distance
Horizontal Distance
Vertical Distance
Distance between Arbitrary Parallel Lines
Point-based Radius
Point-based Diameter
3-Point Angle
4-Point Angle
Measurements in the Marker to Marker tab that support being defined by datums are:
Center of Circle
Line Midpoint
Point of Intersection Of Two Lines
Orthogonal to Line
Closest Point on a Midline
---
The Program Toolbox Statistics & Data Groups step has been modified to allow the user to define a directory path when saving the contents of a Data Group to file and using a String Variable as the file name. Select the "Browse" button to choose any file in the target directory, and the directory path will be used when saving the Data Group with the selected String Variable as the file name.

Program Toolbox – Statistics & Data Groups – Save a Data Group to file
---
We've added a Roll Pin Distance measurement tool which is useful for many different types of inspections, including:
root forms of blades
root forms of disk slots
gear teeth
thread teeth
etc.
This new tool is very easy to setup and use and is extremely accurate & repeatable. Roll Pin distance measurements can be found in the Miscellaneous tab of both the manual measurement mode and the Program Toolbox Measurement step for fully-automated measurements.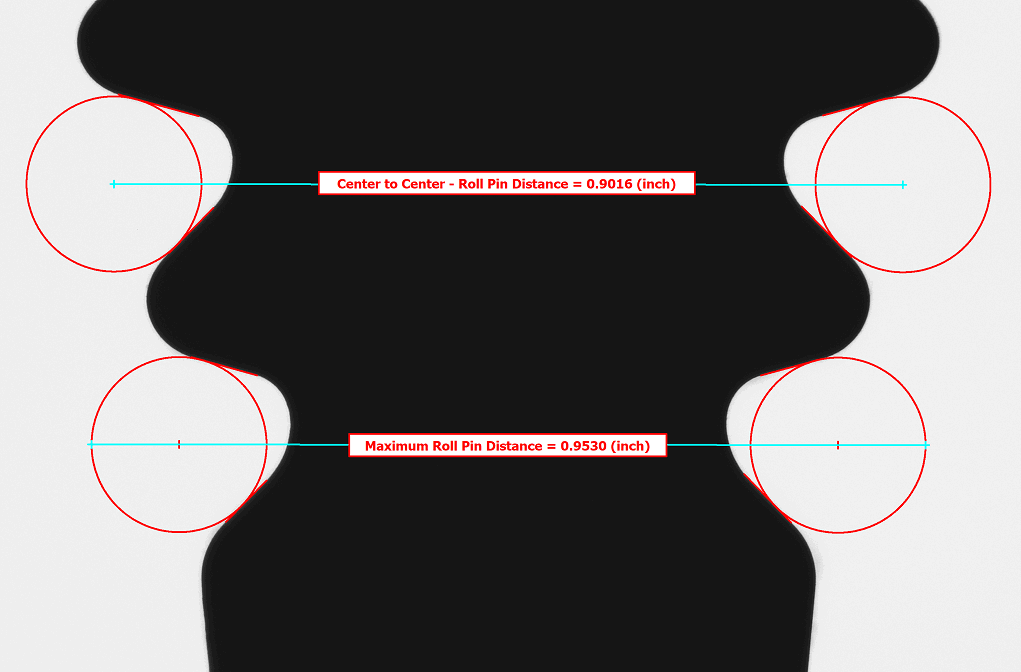 Roll Pin Distance measurement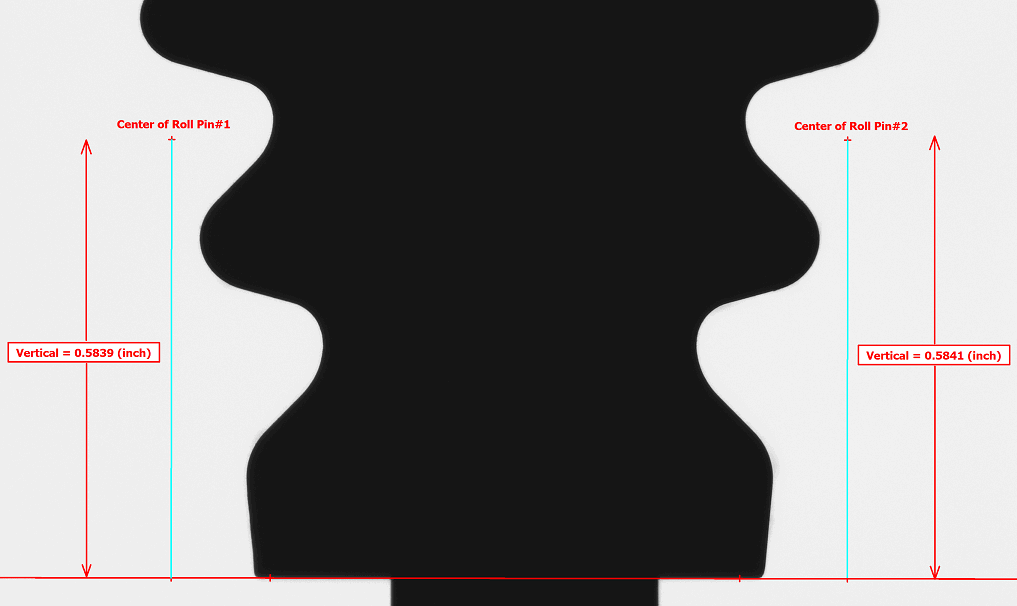 Roll pin distance measurement from a datum line
More information about the Roll Pin Distance measurement will be posted soon.
---
We have included some DXF format radius charts in VisionGauge® OnLine's \LiveImageOverlays\DXF sub-directory. Operators of traditional optical comparators will already be very familiar these charts, and they could be very useful in certain instances with the VisionGauge® Digital Optical Comparator (for example: when inspecting short-arc radii).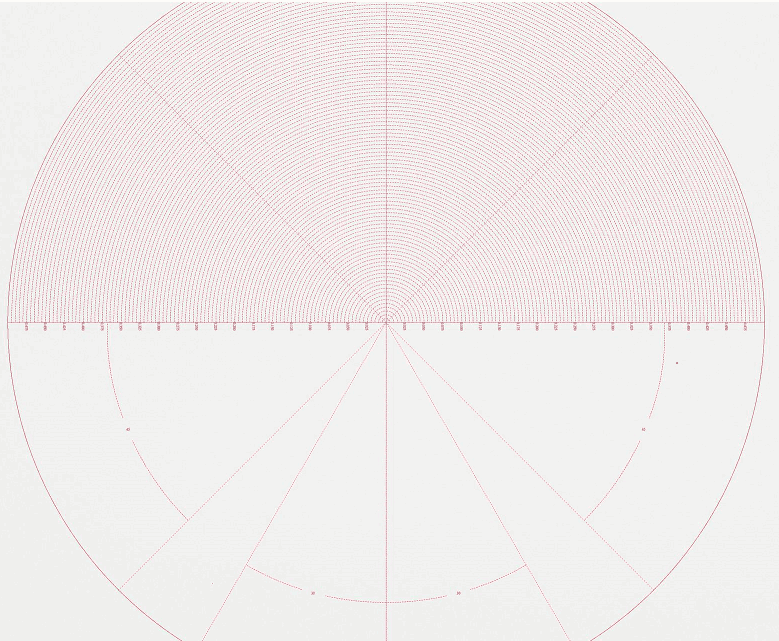 DXF format Radius Chart in VisionGauge® OnLine
---
This update also adds password protection for several options from the Motion Control window, including the Set Zero, Set, Output, Home All buttons, the Coordinate System, Zero on Center Point, Skew menu items, and the individual axis zero buttons.
The Security Manager can allow operator access to these items in the Motion Control window if the option is checked. Otherwise the user will be prompted to enter the password when trying to access these items.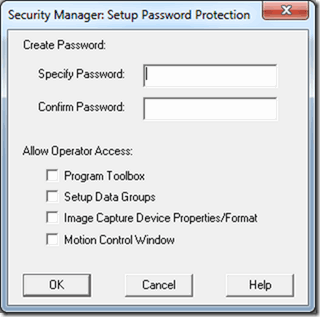 VisionGauge® OnLine's Security Manager
---
We have added an option to apply 5-axis transforms and corrections to manual move operations ("Go All" moves from the Motion Control Toolbox). Previously, 5-axis transforms and corrections were only able to be applied during a program.
This update applies exclusively to our 700-series 5-axis Inspection and Measurement Systems. These new options can be found in the "Motion Control – Settings – Transforms – 5-Axis Transform Settings" menu. 5-Axis Corrections, 5-Axis Transforms, and the Fixture Center of Rotation Offset Corrections may be applied to manual "Go All" operations by selecting the appropriate checkbox.
When this option is selected, any coordinates that are entered directly into the "Go To" section of the Motion Control Toolbox will be transformed with the current corrections and transforms, and the stage will move to that transformed position. The "Current Position" / DRO in the Motion Control Toolbox will show the actual position of the encoders following the stage move (the transformed position).
Please note that while the 5-Axis Tranforms "Fixture Height" and polarity settings are saved with a program and may be changed by loading different motion programs into the Program Toolbox, the option to apply these transforms and corrections to manual operations is machine dependent and saves with other VisionGauge® OnLine setting files.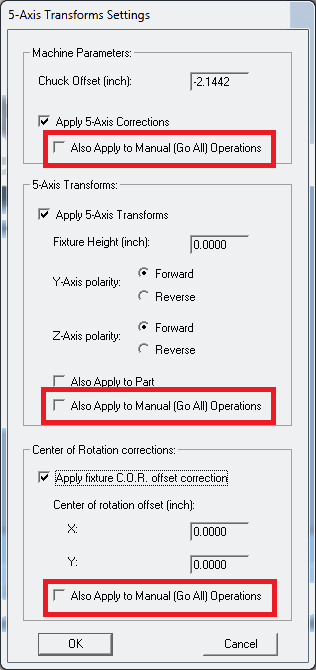 Applying VisionGauge® Online 5-Axis Transforms and Correction to manual operations
---
During the setup of Control Sections for overlays, users can now use the Select mode to choose a Control Section they would like to edit, remove, etc. Simply click Select, the using the mouse, choose the control section from the overlay.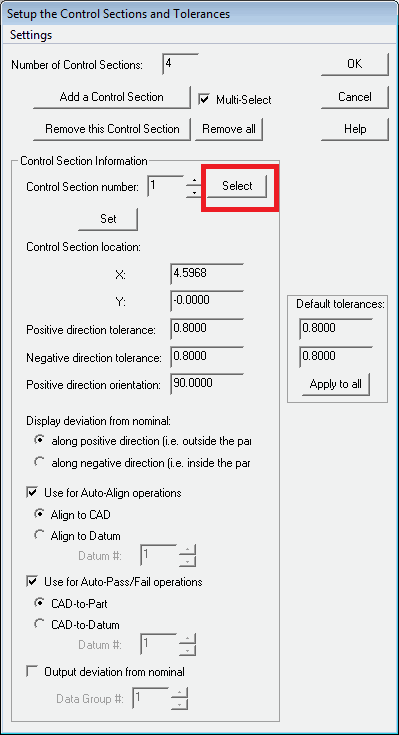 Selecting specific Control Sections to modify during overlay setup
---
The procedure for writing 'carryover' settings has been modified to permit automatic correction in the case of incomplete shutdown procedures. If an incomplete shutdown procedure is detected, VisionGauge® Online will advise you and automatically try to repair the startup settings.
---