Turbine and compressor disk fir-tree slots and root forms are generally manufactured through broaching, wire cutting, or milling along with follow-up deburring and rounding operations. These features have complex geometries and very tight tolerances that are difficult to achieve. In particular, the pressure surfaces that constitute the critical point of contact between the blade roots and disc during operation are subject to very narrow tolerances in the order of 10–20 µm.
To ensure that the disk slots match up perfectly with the corresponding turbine blade shapes and provide proper performance, it is essential to accurately control the shape, position, orientation and alignment of the disk slots.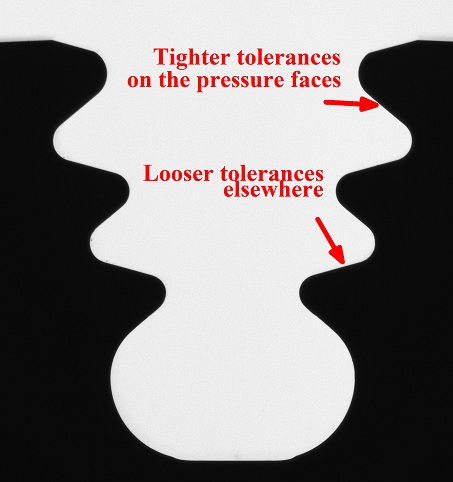 The VisionGauge® Disk Inspection & Measurement System is designed specifically for this. The system's patented CAD Auto-Align™ and CAD Auto-Pass/Fail™ tools are unique technologies that allow the system to produce results of very high accuracy, completely automatically and with absolutely no operator dependence or subjectivity. It is fast and can carry out 100% inspection of 100% of the slots on every disk.
Some capabilities of the VisionGauge® Disk Inspection & Measurement System include:
Fully automated profile inspection
Completely automated knife edge setup
Radial length/Z plane distance inspection
Centerline inspection
Slot spacing inspection
Supports cone & helix angles
Verification of pressure face flatness/slot perpendicularity inspection
VisionGauge® Disk Inspection & Measurement Systems can also be used to carry out complete reporting, data capture, and analysis, including:
VisionGauge®'s powerful CAD Auto Pass/Fail™ Analysis mode makes it very easy to review non-conforming profiles. It allows the operator to automatically snap directly onto failed edge points, thus increasing efficiency when verifying out-of-spec regions.
Data for every inspected slot is automatically registered in its respective Data Group. Additionally, results can be quickly & easily reviewed as the system automatically returns to a specific slot's location by simply double-clicking on the corresponding Data Group entry.
5 axes of motion (X, Y, Z, Rotary, Tilt) to properly view slots at all angles, increment from slot-to-slot, etc.
Fully-automated operation.
No operator-to-operator variation
Quickly, easily and accurately inspect 100% of a disk's slots
Easy to program (can use your CAD data directly!)
Fast, accurate & easy-to-use
Extensive set of VisionGauge® advanced high-accuracy inspection and measurement tools
Straightforward operator interface: barcode-reader and joystick
Intuitive software
Patented & patent pending technology with powerful & innovative software tools
Sharp, clear & ultra-high resolution image!
Extended optical depth of field and extended working distance for maximum flexibility!
Automatically create reports and collect measurements, statistics, images and other data for complete documentation
Automatic image & data collection with built-in SPC and data-exchange capabilities
Fast and intuitive "operator review" mode to quickly revisit out-of-tolerance areas
High-precision movements on all axes
High load capacity (for large & heavy disks)
Robust shop-floor design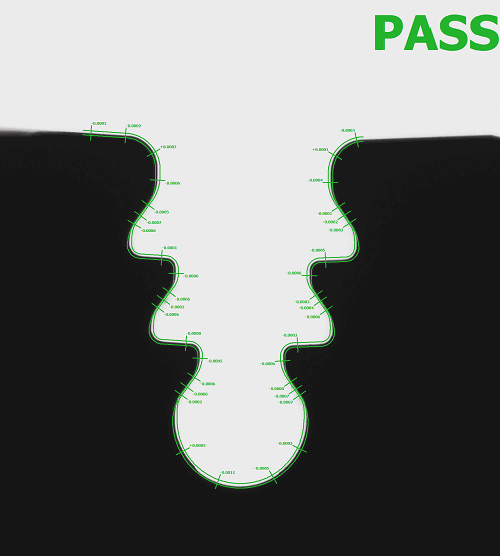 The system's patented CAD Auto-Align™ & CAD Auto-Pass/Fail™ tools
allow you to automatically check the slot profile, get deviations from nominal, etc…
These very accurate tools produce results that are completely operator-independent
High-resolution precision optics to resolve very fine details with great clarity.
Standard systems include 12″ X-axis travel, 12″/24″ Y axis travel, 12″ Z-axis travel with extended travels available to accommodate large disks.
A (tilt) axis range from – 40 deg to +40 deg, B (rotary) axis range from 0 deg to +360 deg.
All axes have closed-loop encoder feedback.
All axes include high-accuracy preloaded crossed-roller movement.
Includes both bi-telecentric transmitted (i.e. back) illumination and reflected (i.e. front) illumination with Ultra-bright, computer-controlled and programmable LED's.