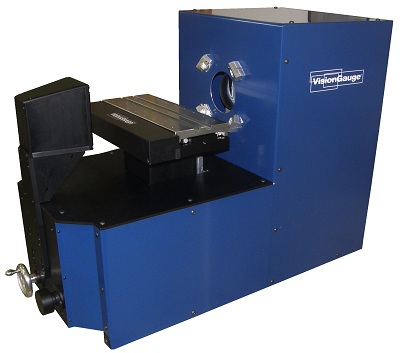 The 400 Series VisionGauge® Digital Optical Comparator is a state-of-the-art inspection and measurement system. It's a compact desktop system that still provides a large working envelope. This system is especially well suited for lower volume applications.
These optical inspection systems offer operator-driven, manual stage movement across 3 axes and are available in both horizontal and vertical configurations. Despite its compact size, the system is performance-oriented with high-resolution, precision optics and ultra-bright LED computer-controlled illumination for sharp and clear images. A single high-resolution monitor is provided to see the entire image at once, with a secondary monitor as an option.
The 400 Series is a very cost-effective, full-featured inspection and measurement system that has all of the advanced, patented VisionGauge® software capabilities, including CAD Auto-Align™ and CAD Auto-Pass/Fail™ software tools, and our patent-pending Tooth Checker™ tool for fast, accurate, and operator-independent Part-to-CAD comparison. Compare parts to their CAD file beyond the optical field-of-view, across the entire stage travel! Results are easy to report with automatic image & data collection and built-in SPC and data-exchange capabilities.
An optional laser module enhances height/depth measurement capabilities in the Z axis, and additional customizations are also possible to solve your application.
Advantages of 400 Series Desktop Inspection and Measurement Systems
This versatile desktop optical comparator has the ability to automatically obtain images, gather data, and generate reports, making it one of the most convenient tools you can place in your machine shop or manufacturing facility. New technology and a wide range of benefits offer an advantage over traditional comparators and other optical inspection systems.
The 400 Series VisionGauge® Digital Optical Comparator is compatible with countless applications, and presents many additional advantages including:
Compact design with up to a 12″ x 12″ envelope to accommodate a variety of parts and fixtures
Intuitive software with a user-friendly interface and efficient performance
High-resolution, precision optics and repeatable computer-controlled LED illumination for high-contrast, crisp imaging
Single magnification optics with extended depth-of-field and long working distance provides maximum flexibility
Optical accuracy better than +/-0.00015″ (i.e. 4 μm)
Proprietary VisionGauge® measurement and inspection technology, including CAD Auto-Pass/Fail™, CAD Auto-Align™, and Tooth Checker™ for operator-independent Part-to-CAD results
Automatically create reports and collect measurements, statistics, images and other data for complete documentation
Robust design with no consumable parts
Automatic image & data collection with built-in SPC and data-exchange capabilities
Features
Our optical inspection technology is continuously improving, with new innovations solving all types of industrial inspection applications with increasing speed and accuracy. Despite its compact size, the 400 Series VisionGauge® Digital Optical Comparator has the same powerful software toolset as larger optical inspection devices.
Additional features include:
VisionGauge®'s extensive set of software tools for image analysis and sub-pixel accurate measurements
Available in Vertical and Horizontal configurations
Manual stage movement and inspection on 3 axes
0.25 micron resolution encoders on the X and Y axes
Ultra-bright, repeatable LED computer-controlled illumination
A single high-resolution monitor allows the entire image to be viewed at once, with an optional secondary monitor
Optional LASER module for Z-axis height measurements
Customizable optical configurations and custom workholding available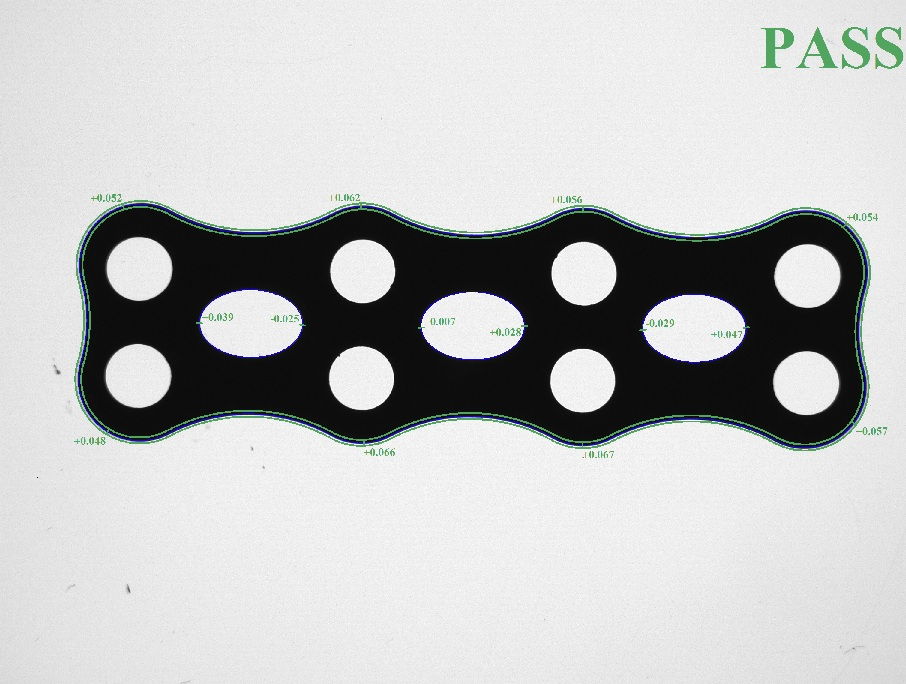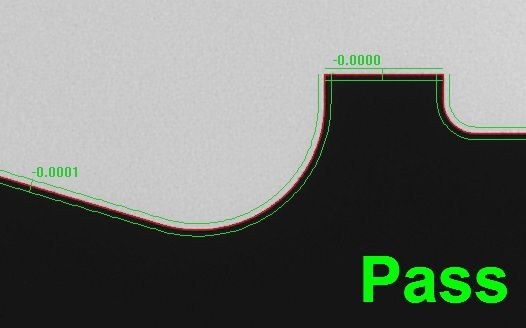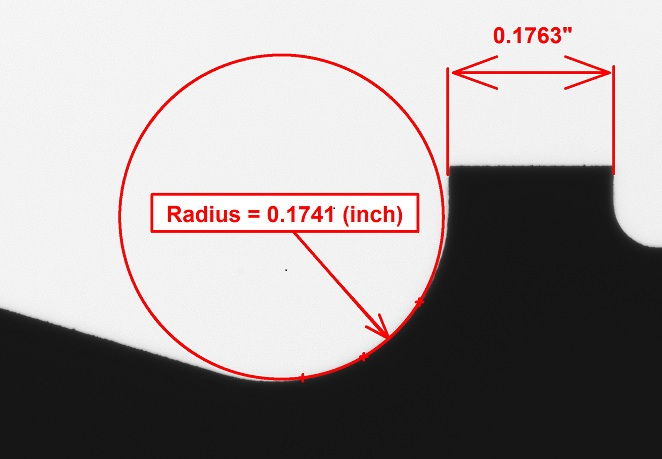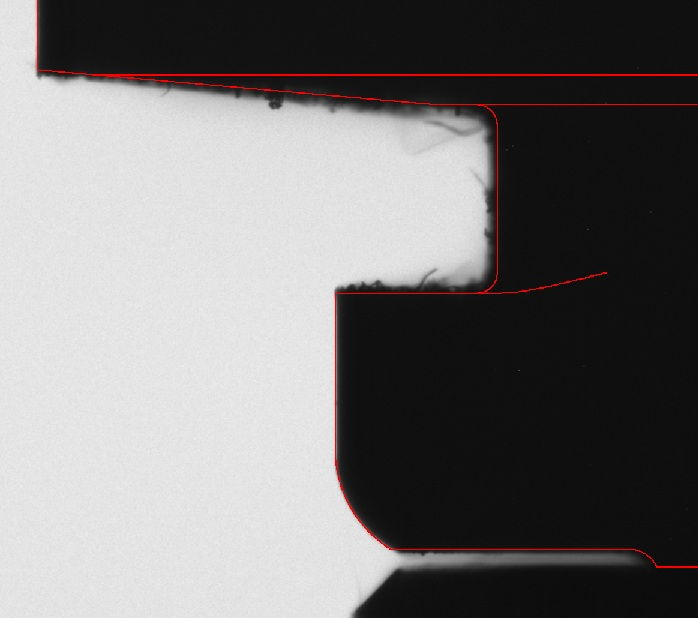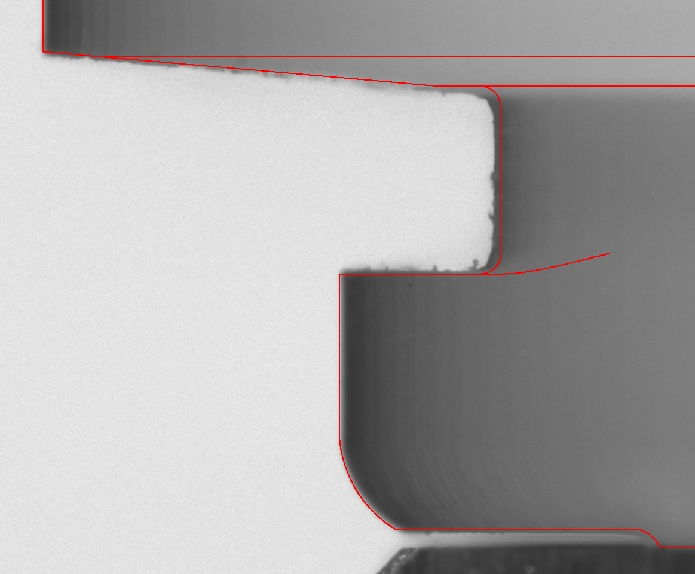 What Are Optical Inspection Systems?
An optical inspection system is a machine/device that uses visual methods to check manufactured parts/items against their designed product specifications. It may employ a number of different inspection techniques to obtain data about surface defects and dimensional defects, perform measurements, perform absence/presence detection, and much more.
VisionGauge® Digital Optical Comparators / Profile Projectors replace older, traditional optical comparators. Dated machines have less accurate and less efficient technology, and traditional optical inspection equipment may require multiple overlays and mylars to compare parts. Using a part's CAD file directly eliminates the need for other tools. VisionGauge®'s advanced software and patented tools can easily solve a vast array of applications with greater accuracy and efficiency. The best model for each industry depends on specific requirements of your application.
Learn More About Optical Measurement Systems for Industrial Inspection
The 400 Series VisionGauge® Digital Optical Comparator has advanced features and benefits that make it a cost-effective tool for quality control of your manufacturing operations, regardless of your industry. Whether operating manually or automating part inspections, our systems make it easy to check parts, obtain Pass/Fail results, and collect detailed data reports. Contact us with the details of your application for our optical measurement system prices.
Request more information about the 400 Series VisionGauge® Digital Optical Comparator below.