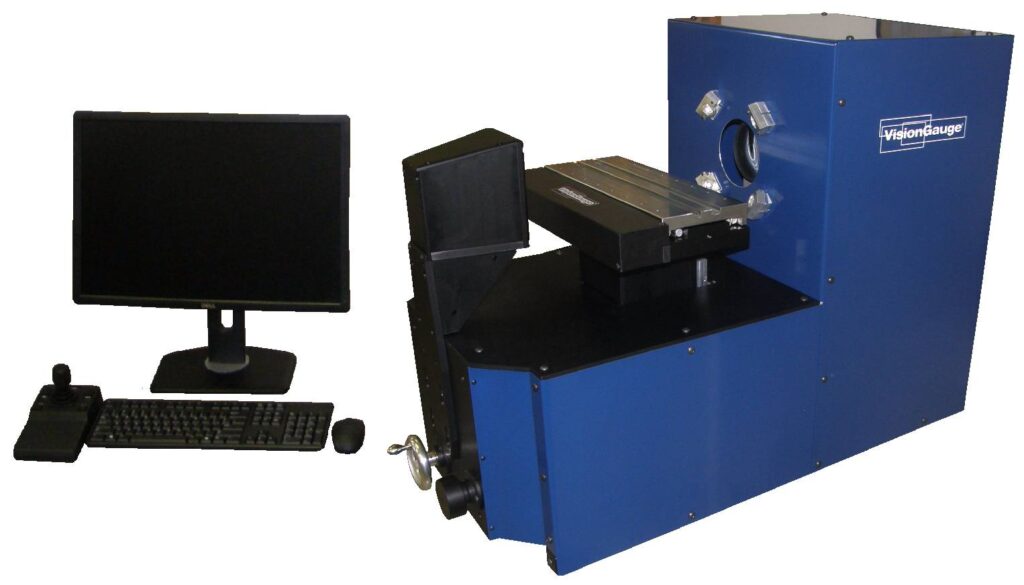 The 400 Series VisionGauge® Digital Optical Comparator is a state-of-the-art inspection and measurement system. It's a compact desktop optical comparator that still provides a large working envelope. This system is especially well suited for lower volume applications.
These optical inspection systems offer operator-driven, manual stage movement across 3 axes and are available in both horizontal and vertical configurations. Despite it being a small optical comparator, the system is performance-oriented with high-resolution, precision optics and ultra-bright LED computer-controlled illumination for sharp and clear images. A single high-resolution monitor is provided to see the entire image at once, with a secondary monitor as an option.
The 400 Series is a very cost-effective, full-featured inspection and measurement system that has all of the advanced, patented VisionGauge® software capabilities, including CAD Auto-Align™ and CAD Auto-Pass/Fail™ software tools, and our patent-pending Tooth Checker™ tool for fast, accurate, and operator-independent Part-to-CAD comparison. Compare parts to their CAD file beyond the optical field-of-view, across the entire stage travel! Results are easy to report with automatic image & data collection and built-in SPC and data-exchange capabilities.
An optional laser module enhances height/depth measurement capabilities in the Z axis, and additional customizations are also possible to solve your application.
Learn More About Optical Measurement Systems for Industrial Inspection
The 400 Series VisionGauge® Digital Optical Comparator has advanced features and benefits that make it a cost-effective tool for quality control of your manufacturing operations, regardless of your industry. Whether operating manually or automating part inspections, our systems make it easy to check parts, obtain Pass/Fail results, and collect detailed data reports. Contact us with the details of your application for our benchtop optical measurement system prices.
Request more information about the 400 Series VisionGauge® Digital Optical Comparator below.