Inspection & Measurement of Orthopedic Implants
The Ideal Solution for Orthopedic Implant Inspection (including knees, hips, plates, shoulders, and many more)
There are many reasons why the VisionGauge® Digital Optical Comparator is employed by the manufacturers of orthopedic implants to inspect and measure the medical implants and devices they produce:
Compare products directly to their CAD data, completely automatically (no more overlays or Mylars!)
VisionGauge®'s patented CAD Auto-Align™ and CAD Auto-Pass/Fail™ tools are easy to use to automatically inspect and measure parts, and they produce very high-accuracy results.
Demonstrated accuracy down to +/-0.0001" in real-world applications, right on the shop floor!
VisionGauge® Digital Optical Comparators are proven faster and allow for significant gains in throughput compared to traditional comparators.
100% consistent results between users - No more operator-to-operator variation!
Automated programs can be stored and recalled per part as needed or the system can be used in manual mode - either way, the system is especially well suited for inspecting small lots with rapid part changeover.
The systems provide multiple options for complete documentation and reporting of statistics, measurements, images, and other data.
The system's extended optical depth-of-field and Auto-Focus tool easily overcome the difficulties of orthopedic implant inspection.
Make defects truly stand out and entirely remove glare with multiple options for adapted computer-controlled LED illumination. VisionGauge® Digital Optical Comparators produce stunning results on both metal and plastic parts!
Measure and display deviations from nominal completely automatically:  Quickly and easily locate areas that are outside of tolerance.
VisionGauge® Digital Optical Comparators are not limited to performing inspections only in the camera's field-of-view:  A part can be compared to its CAD/DXF data across the entire stage travel. Check large and long parts at high magnification and very fine resolution with ease.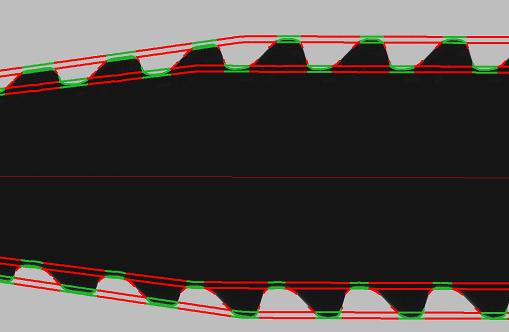 The systems are also widely used in the inspection of forgings.
The VisionGauge® Digital Optical Comparator is the new standard for inspecting orthopedic implants in the medical industry. Contact us to find out how we can solve your application.
Machine Vision Products Application Bulletins: