VisionGauge® Measurement Tools, Statistics, & Reporting Features
High Precision Measurements and Measurement Statistics
Powerful & easy to use:
VisionGauge® is a powerful tool for non-contact visual measurements. It uses advanced edge-detection technology that produces sub-pixel accuracy, increases measurement repeatability and virtually eliminates operator dependent measurement error.
VisionGauge® is very simple to use and supports a wide range of measurement tools: from simple point-to-point measurements, diameters, radii, angles, and XY calipers to skew-corrected parallel hashlines and powerful and flexible marker-to-marker measurements, as well as fully-automated measurement software tools (e.g. line width, area calculation, and more).
Computing measurement statistics:
You can use VisionGauge® to compute measurement statistics, including sample mean, median, minimum and maximum, variance and standard deviation, as well as process capability statistics (i.e. Cp and Cpk). With VisionGauge®, it is easy to manage all of your data (i.e. images, measurements and statistics):
Link, store and recall all of your data with the easy-to-use integrated database and report generator
Save the information to disk
Print the information
Seamlessly transfer the information to other application
Example:
Here is an example of a simple marker-to-marker measurement. In this case, we are measuring from the center of the hole to the center of the pad. X, Y and "straight line" distances are shown:
VisionGauge® Measurement Toolset
VisionGauge® has a wide selection of easy-to-use and powerful machine vision software measurement tools, including:
Point-to-point (i.e. "True Distance") measurement
Horizontal distance
Vertical distance
Distance between arbitrary parallel lines (i.e. with built-in skew correction)
Simultaneous XY measurements
Diameter (using 3 or more measurement points)
Radius (also using 3 or more measurement points)
Angle measurement
Orthogonal line width (i.e. automated measurement tool)
Arbitrary line width (i.e. automated measurement tool)
Automatic circle (i.e. automated measurement tool)
Automatic angle (i.e. automated measurement tool)
Pathline measurement
Area measurement
Z measurements
Distance between a point and a plane
The area of a thresholded object
The equivalent diameter of a thresholded object
The equivalent radius of a thresholded object
Maximum X and Y dimensions of a thresholded object
Marker-to-marker measurements, where markers can be:

A point
The center of an XY rectangle
The center of a circle
The center of an arbitary triangle
The center of an arbitrary 4-vertex feature
The center of an arbitrary 5-vertex feature
Line midpoint
Orthogonal to line
Zero position
The centroid of a thresholded object
...

Advanced, fully-automated volume measurement tool
etc...
VisionGauge®'s Enhanced Database Search Tools
with "Thumbnail" Preview Image Gallery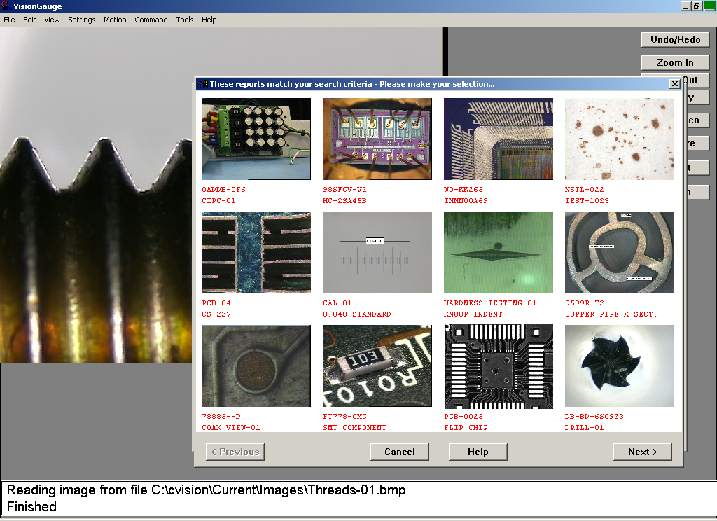 VisionGauge® allows users to create customized measurement reports, storing an image, measurements, and text descriptions for each report. Reports can be used as templates for operators to fill in or standalone inspection reports for each part saved to the VisionGauge®'s integrated database.
You can use VisionGauge®'s enhanced "Database Search" tools to call up all of the reports in VisionGauge®'s report database that contain a specific search string (for example: a date, an evocative keyword, a specialized term, etc...). These enhanced "Database Search" tools work seamlessly with VisionGauge®'s integrated Report Generator and Database.
To carry out a search, simply type-in a search string and VisionGauge® shows you all of the reports in which it can be found, sixteen at a time. For each matching report, VisionGauge®'s "Database Search" tools display a thumbnail preview image, along with two "key field" strings. Then, when you click on the image of the report that you're looking for, VisionGauge® retrieves it from the database and loads it into the Report generator.
Machine Vision Products Application Bulletins: