Printed Circuit Board (PCB) Manufacturing and Probe Card Measurement Applications
Printed Circuit Board Inspection and PCB Measurements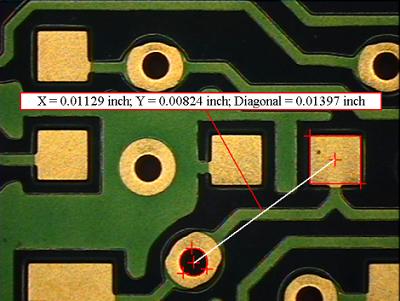 In the intricate task of Printed Circuit Board (PCB) manufacturing, reliable inspection and measurement of different connections, vias, and clearances is paramount during and after production. VisionGauge® OnLine machine vision software contains highly accurate measurement tools that are perfect for any PCB related application. With resolutions up to 0.1 micron (um), the measurement tools provide high-accuracy results every time.
These tools allow you to perform numerous types of measurements, including:
Point-to-Point Distance
Horizontal Distance
Vertical Distance
Line and Trace Width (arbitrary orientation)
Point-Based Radius or Diameter
Angle (4-point)
Marker-to-Marker measurements, including fixed positions, intersection of two lines, center of circle, light-to-dark and dark-to-light edges, measurements between datums, etc...
and many more...
The software also allows color verification, pattern recognition, optical character recognition/verification, alignment, overlay comparison, and more. You can also perform counting and sizing operations:  This can be useful in via inspection to determine, with one mouse click, the number of vias in a layer or to calculate with micron precision the area of a copper connection.
VisionGauge® OnLine is so accurate that measurements can be also performed on the cross-section of the board. Cross-section measurements are especially useful when checking the length of buried vias and thru vias.
The data obtained from these measurements can be easily exported, transferred, or placed into reports.
Probe Card Measurement Systems
Probe cards are equipment used to test and benchmark semiconductor wafers. The thousands of sensitive probe needles present on a probe card can be placed as close as 20 microns apart and need to be placed precisely for the probing process to be successful. VisionGauge® OnLine's Automated Optical Inspection (AOI) systems can carry out probe card measurement with great accuracy.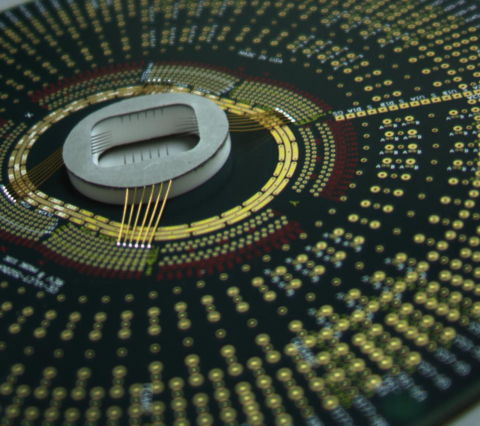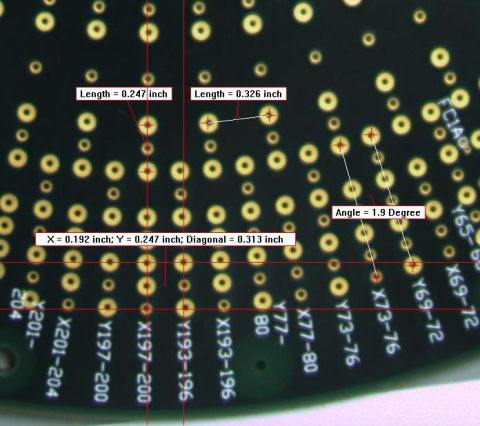 Our measurement systems are assembled with different levels of magnification, and they posses motion encoder accuracy up to 0.1 micron in three dimensions. VisionGauge® Online systems are easy to use and can be programmed so the inspection is fully automated, or you can use the system manually with the help of a joystick.
VisionGauge® Online includes many features to make your automated measurements effective and efficient. The software is capable of auto-focus, which provides you with accurate and highly repeatable results. These systems are also customizable with reflected or direct lighting.
You can automatically save measurement results, save the images with measurement tags attached to them, control input and output signals based on inspection results, and even automatically create reports with this information. For more information on any type of probe card measurement application with VisionGauge® Online machine vision systems, please contact us.
Machine Vision Products Application Bulletins: