Automatic Bone Screw Inspection and Measurement
VisionGauge® Digital Optical Comparators are the perfect solution for automatic bone screw inspection and measurement.
The VisionGauge® Digital Optical Comparator is widely used by medical device manufacturers for automated  inspection and measurement of bone screws for many reasons: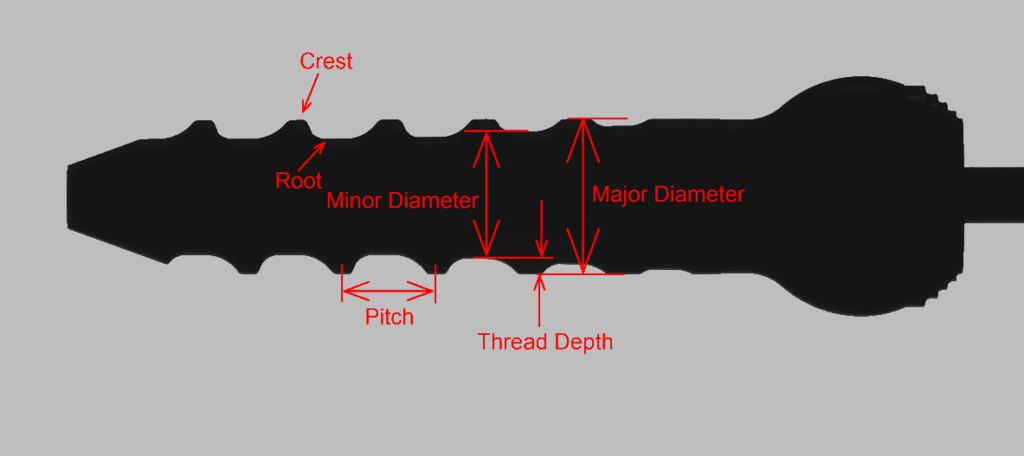 Automatically compare bone screws against their CAD data
With its proprietary patented CAD Auto-Align™ and CAD Auto-Pass/Fail™ tools, the system can check screws completely automatically, regardless of their orientation!
Eliminate operator subjectivity!
Collect measurements, statistics, images, and other data for complete device history information automatically
Thanks to the system's extended depth-of-field, the entire screw can be in focus even at the helix angle (no need to constantly refocus)!
Measure the screw's major and minor diameters, tooth pitch & spacing and other characteristics - even runout - completely automatically and to a very high accuracy
With the optional rotary stage, you can automatically measure the helix angle, very accurately!
The system is perfect for bone screw inspection and measurement directly on the shop floor
For bone screws inspection and measurement on the VisionGauge® Digital Optical Comparator, some manufacturers use horizontal configurations, while others use a vertical configuration. The decision to use one or the other is generally based on fixturing considerations. The hard chrome plated stage, made from hardened tooling steel, has industry standard dual dovetail grooves that make it compatible with existing mounting fixtures, and a drop-in replacement for traditional optical comparators. Rotary stages are also an option that can be added to these systems.
Download a .pdf version of this VisionGauge® Digital Optical Comparator Application Note.
Machine Vision Products Application Bulletins: