Automatic Bone Screw Inspection and Measurement with VisionGauge®
VisionGauge® for Orthopedic Screw Inspection
Orthopedic reconstructive and reparative procedures commonly use medical bone screws as fixation devices. Among other applications, they are employed for bone-to-bone fixation. The bone heals better and faster if the fractures are pressed together firmly by orthopedic screws. The advantage of these screws is that they reduce the gap between the bones, and, consequently, decrease the stress. Another common use of medical bone screws is to attach various implants, such as plates, to the bone. Medical bone screws are also utilized for a variety of other general anchorage and fixation purposes.
The VisionGauge® Digital Optical Comparator is widely used by medical device manufacturers for automated inspection and measurement of orthopedic/medical bone screws.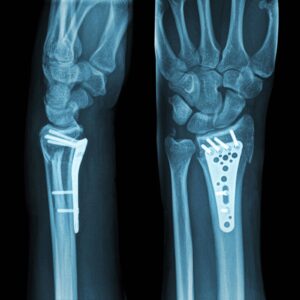 For inspection and measurement of orthopedic screws on the VisionGauge® Digital Optical Comparator, some manufacturers use horizontal configurations, while others use a vertical configuration. The decision to use one or the other is generally based on fixturing considerations. The hard chrome plated stage, made from hardened tooling steel, has industry standard dual dovetail grooves that make it compatible with existing mounting fixtures, and a drop-in replacement for traditional optical comparators. Rotary stages are also an option that can be added to these systems.
The VisionGauge® Digital Optical Comparator is the new standard in measuring and controlling the geometry of medical/orthopedic bone screws. Screw manufacturers can ensure their product has good dimensional accuracy and surface finish while also significantly reducing inspection times and overall cost. Operator-to-operator variation is entirely eliminated with this system, and manufacturers are capable of automatically collecting accurate screw dimensions and inspection result data, computing process statistics, and automating complete inspection reports. The VisionGauge® Digital Optical Comparator is an invaluable tool for process control and quality improvement, and it represents a significant advantage in modern competitive medical markets for bone screw manufacturers.
Download a .pdf version of this VisionGauge® Digital Optical Comparator Application Note.
Machine Vision Products Application Bulletins: